390th Strategic Missile Wing Reunions
<![if !vml]><![endif]>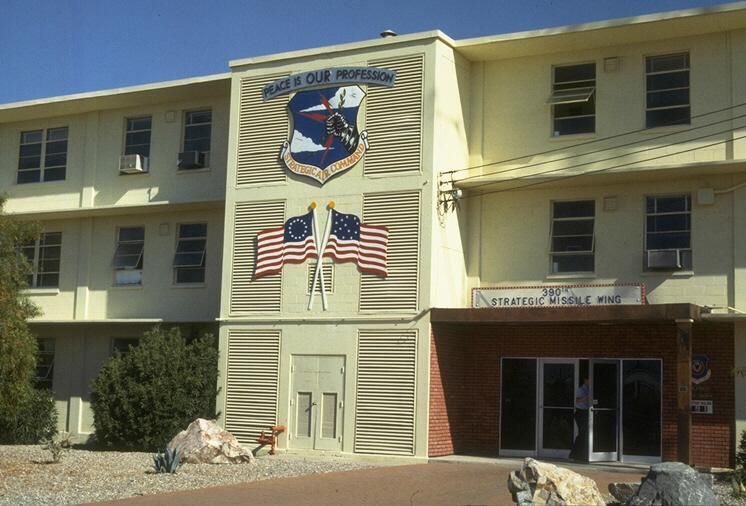 Click on picture for larger view!
---
Fellow 390th SMW Members:
General Information:
The last reunion was held September 28th - October 2nd, 2016 in Tucson, AZ. Look for pictures here at a later date. Pictures can also be found on the 390th SMW Facebook Page.
390th SMW 2018 REUNION! ALL FORMER TITAN II WINGS ARE INVITED!
Reunion Info:
Where: Colorado Springs
Dates: Sept. 26th-Sept. 30th, 2018
Hotel Information:

Colorado Springs Marriott, 580 Tech Drive, Colorado Springs, CO. 80919

Rate: $115 per night. Available three days before and after the reunion.
Online room reservations are now just a click away with ResLink!

Click on the blue link below. You will be directed to the property's home page with the negotiated rate code already entered in the appropriate field and can quickly make your room reservation.
Book your group rate for 390th Strategic Missile Wing Association Reunion
You may also call the hotel 24 hour reservations line at 1-800-932-2151 to speak to someone directly.
Be sure to ask for 390th Strategic Missile Wing Association Reunion
.
To avoid any booking issues, please have all reservations made by August 13th, 2018.
Start date: 9/23/18
End date: 10/3/18
Last day to book: 8/13/18
Reunion Packet and Form - There are two packets here. One for printing a blank registration form to fill out and one that has the form in a PDF format to fill out on your compter to save and print it. To get Acrobat Reader to view PDF files, click HERE.
For the blank form to print version, click HERE.
For the version to fill out on your computer, click HERE.
EVENTS:
Thursday, September 27th: Garden of the Gods, is a Colorado State Park. www.gardenofgods.com This venue had been recommended to us by many people who have gone there and said we shouldn't miss it. We are to be introduced to the Park via a short movie and then driven through the area accompanied by a docent provided by the Park, plus a stop at the gift shop. There is no Park admission, however we do have to pay for the movie and the docent. Transportation is provided throughout the day.
After our morning in the Park we will go to The Airplane Restaurant www.TheAirplaneRestaurant for a late lunch. This is an unusual restaurant in that it incorporates the fuselage of a Boeing KC-97 plane in its' restaurant seating. You can take a virtual tour by going to their website. We didn't arrange for a specific lunch thinking everyone might want to choose a light snack or regular lunch of their choosing.
We will return to the Hotel between 4:30 and 5:00 pm. Your evening will be free to do whatever or just visit in the Hospitality Room.
Friday, September 28th: UNITED STATES AIRFORCE ACADEMY. The Academy is both a working Base and a University. The Public Affairs Office of the Base is providing us with a tour of all the areas that won't require additional information from those of our members who do not possess Military ID. The non-Military ID holders will need a Driver License or Passport that has a picture identifying you as the person listed on License or Passport. Military ID is all that is needed for everyone else.
At the conclusion of the tour we will have time to roam around some of the closest areas as well as the Gift Shop. Since the Academy doesn't have an easy nearby sandwich shop we've arranged to make available a box lunch. I've been advised there are tables/benches in the Gift Shop area where you can eat. Choose which of the Box Lunches you prefer either Roast Beef/Cheese on Rye or Ham/Cheese on Butter Bun both lunches come with chips, dill pickle, whole fresh fruit, jumbo chocolate chip cookie or Brownie and a choice of coleslaw, pasta or potato salad and bottled water. Check the Registration Form if you want a Box Lunch and what kind.
We had hoped to have a luncheon at the Falcon or Doolittle Clubs but they are booked – our loss.
Friday Evening: Banquet at the Hotel. Dick Kampa, our President is working on obtaining a speaker so that information isn't available at this time.
Saturday Morning: General Meeting, site TBD but somewhere in the hotel.
Saturday Evening: at the Hotel, a fun, relaxed "Look Back at 50's & 60's" we will have entertainment with a D jay and food reminiscent of the times. Dress in "the times" if you want (poodle skirt, etc.)
Sunday Morning: it's good by till next time.
PLEASE NOTE: if a 390th SMWMA member is bringing a guest, whether that guest is a member or not, the Registration Fee is the same for both. Non-390th SMWMA member the same applies, the fee is the same for each person.
Any special requests, such as meals, please let us know with your Registration Form.
Further information:
Any further questions, please don't hesitate to call us at: 520-886-3430 (home); 520-886-7157 (fax) or email: slasher@390smw.org. Any of our Board of Directors can also assist you if you choose to contact them via our Web site.
John and Susan Lasher
Reunion C0-Chairs
REUNION PICTURES:
2018 REUNION: Please click "HERE".
2016 REUNION: Please click "HERE".
2008 REUNION: Please click "HERE".
2004 REUNION: Please click " HERE" for pictures of the 2004 Reunion in Tucson, AZ.
2002 REUNION: Our 2002 Orlando Reunion was held in September 2002! Please check the " November 2002 newsletter" for information and pictures.

2001 REUNION: For pictures from the 2001 reunion in Dayton Ohio, please click " HERE.".