390th Strategic Missile Wing Reunions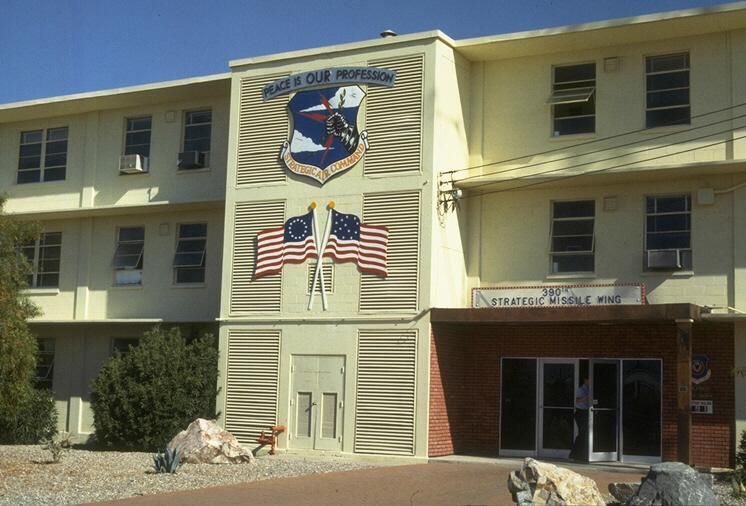 Click on picture for larger view!
---
Fellow 390th SMW Members:
General Information:
The next reunion will be in Tucson from May 4th - 8th, 2022. Look for pictures from prior reunions below. Pictures can also be found on the 390th SMW Facebook Page.
390th SMW 2022 REUNION! ALL FORMER TITAN II WINGS ARE INVITED!
Reunion Info:
Where: Tucson, AZ
Dates: May 4th - May 8th, 2022
Hotel: Desert Diamond Hotel Casino (same at 2012 and 2016 Reunion)
Rate: $89 per night.
Click "HERE" for a Hotel Flyer! Click "HERE" to go directly to the Hotel Reservations Website for the 390th SMW! The Hotel is also taking reservations for May 2022 by phone. Be sure to tell them you are with the 390th SMWMA for the $89 a night rate.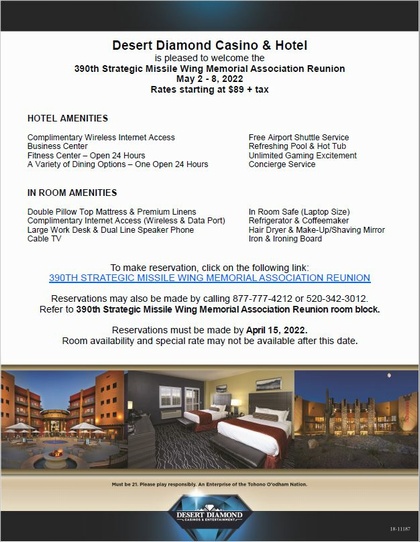 Reunion Packet and Form:

The registration form has two versions. One for printing and filling out and one for filling out on the computer and then print. To download the Reunion Packet and Forms, click "HERE". Payment must be sent in via US Postal mail with your registration form. There is no online payment ability. Thank you!
EVENTS: The Event Schedule below is tentitive at this time and subject to change.
Wednesday, 5/4: Welcome Reception at 6PM in the hotel complete with a Steamship Round of Beef (also, a tradition) with accompanying side dishes.


Thursday, 5/5 and Friday, 5/6 Titan II Museum: At 9:45 and 10:30 AM each day will be tours to the Titan II National Historical Museum. Since there are limited spots on the bus for each tour, it will be a first come, first serve basis. Unfortunately, the Museum has received notice from their insurance company of not being able to use the elevator, therefore they cannot accommodate any visitors who canít walk down the stairs. However, everything topside is available to everyone.

Thursday Evening, 5/5 the Tanque Verde Guest Ranch: The Tanque Verde Guest Ranch is on the agenda. tanqueverderanch.com located at 14301 E. Speedway in the foothills of the Rincon Mountains. Transportation leaves at 4PM and returns at 9PM.


Friday Evening, 5/6 Gaslight Theater: We canít come to Tucson and not go to the Gaslight Theater on Friday evening. The Gaslight is a fun-type theater and dress is casual. Your ticket covers, transportation and show. There is light food to be purchased and eaten during the show, if desired. Our show is at 8:30 pm. There are limited tickets so it will be on a first come, first serve basis.


Saturday 5/7, morning time TBD, General Membership Meeting: All welcome but only members can vote on any issue that comes up.


Saturday 5/7, Evening: at the Hotel will be the Banquet with a Speaker (not yet finalized). Dress is from business casual for men and a dress, slacks for women.


Please note: On the Registration for under ďRegistration FeeĒ if a member is bringing a guest(s) the fee for the guest is the same as the members - $25 each. The same applies for non-members but their fee is $35 each.


Any special requests, such as meals, please let us know with your Registration Form.
Further information:

Any further questions, please donít hesitate to call us at: 520-886-3430 (home) or email: reunion@390smw.org. Any of our Board of Directors can also assist you if you choose to contact them via our Web site.

John and Susan Lasher
Reunion C0-Chairs
REUNION PICTURES:
2018 REUNION: Please click "HERE".
2016 REUNION: Please click "HERE".
2008 REUNION: Please click "HERE".
2004 REUNION: Please click " HERE" for pictures of the 2004 Reunion in Tucson, AZ.
2002 REUNION: Our 2002 Orlando Reunion was held in September 2002! Please check the " November 2002 newsletter" for information and pictures.

2001 REUNION: For pictures from the 2001 reunion in Dayton Ohio, please click " HERE.".